First impressions matter! The design of a website is the first thing that a visitor interacts with. It shapes how users perceive the brand, its values, and what it offers. It also has a direct impact on content marketing.
Just imagine if you come across a website that is difficult to navigate, has no visual appeal, or doesn't offer relevant information? You will most likely leave without taking any action.
In this article, we will discuss how web design impacts content marketing. We will also talk about the essential elements of good web design and how businesses can use web design to their advantage.
What is The Purpose of Content Marketing?
Before we get into how web design impacts content marketing, it is essential to understand what content marketing is and the role it plays in the online world.
Content marketing is defined as the promotion of various materials that helps attract, engage, and retain consumers at all stages of the sales funnel. The goal is to share relevant and valuable content in the form of articles, videos, visuals, and social media posts that will lead them to interact with your product/service.
Following are some of the ways in which web design can impact content marketing:
1. Web Design Can Make Content Accessible
The layout, navigation, and search functionality of a website all play a role in making the website user-friendly. If your website is poorly designed, it will be difficult for users to find the content they are looking for.
For instance, if you have unlimited blog content on your website but no easy way to filter the posts, the users will have difficulty finding the preferred topics. Ultimately, they will give up their search and move to websites with improved navigation.
Web designers use various techniques such as easy-to-read fonts, nesting content in lists, and separate sections for each blog category to ensure the content is discovered and consumed efficiently. However, they achieve all this without compromising on aesthetics.
Check this screenshot from the Chatbot blog section:
Since they have hundreds of articles on different topics, they've made it easy for users to search for a specific article through the search bar and tabs for categories on the top. This makes it convenient for users to find what they are looking for and allows Chatbot to showcase other articles that may be of interest to the user.
2. Helps Influence The User's Perception of The Brand
The way a website is designed can influence the way users perceive the brand. A well-designed, visually appealing website will create a positive impression of the brand in the user's mind. On the other hand, a poorly built website will do just the opposite.
It is important to note that the user's perception of the brand is not just influenced by the website design but also by the overall user experience (UX). Therefore, businesses need to create a positive UX for their users if they want to make a positive impression of their brand.
3. Visual Content Makes Website Attractive
Contrary to popular belief, content marketing is not limited to written words only. It encompasses many formats such as videos, infographics, podcasts, and predominantly visuals.
People are visual creatures, and we tend to process visuals faster than we do text. This is why it's important to use visuals on a website.
Visuals can help break up the text on a page and make the content more digestible. They can also add interest and appeal to a website. A professionally designed image, for instance, can make a website look more credible and trustworthy.
For example, take a look at the webpage of Diva Interiors: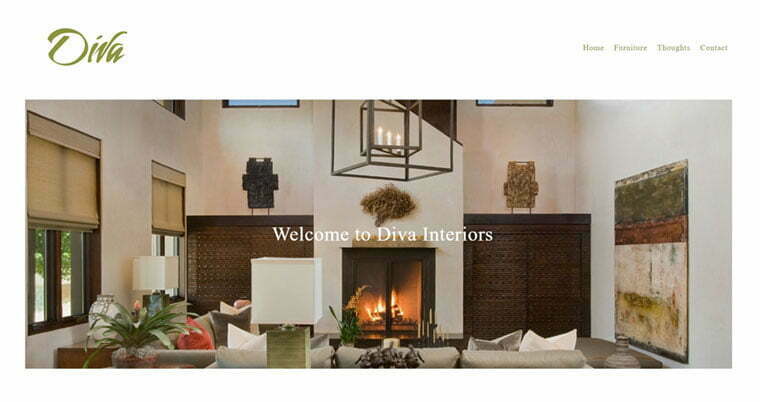 Since interior designing is such a visual industry, the brand emphasizes its services with a beautiful image on its home page. The site looks like a design project with such a high-quality image background. It shows what homeowners can expect if they were to hire Diva Interiors for their own decor needs.
Let's check another example from the About Us page of Knobs.co
Instead of relying on text-only, the company has added a picture for a more human-centric touch. This adds a personality to the page and triggers the trust protocol.
However, when adding images to your web design, ensure the pictures are high quality, relevant, and add value to the content.
You don't necessarily have to spend a lot of time and money curating custom or professional photos for your brand. You can find plenty of stock images for web designs on various reputable websites. They allow flexibility and freedom of use on various commercial projects. They are cost-effective as well and won't impact your marketing budget.
Above all, you don't need to worry about the legal implications of using someone else's photo. These pictures are licensed by the stock photo agencies and don't restrict the users in any way. But make sure to read the terms & conditions present on their website carefully to ensure you are in compliance.
4. Various Element Options to Enhance The Message
Several other design elements can impact the effectiveness of content marketing. These include:
Layout: The way content is laid out on a page can impact how users interact. A well-designed layout will guide users through the content and help them find the information they are looking for.
Typography: The typefaces used on a website can impact the readability of the content and the site's overall tone. Play around with different types of fonts or vary the size of the same font family to create a cohesive look.
Colors: The color scheme of a website can influence users' emotions and perceptions. They can be used to create a specific mood or feeling and leveraged to enhance a brand's message. In fact, particular colors can be associated with specific emotions, so it's essential to choose wisely.
In addition, the overall layout of a website can also affect how users interpret the content. The use of whitespace, for example, can make a site appear more organized and professional, which can help to build trust with users.
The bottom line is that web design can make content more effective. In contrast, lousy web design can sabotage even the best content. When creating a successful content marketing strategy, businesses need to consider web design.
Design is not just about making a website look good. It's about creating a compelling user experience to help users achieve their goals.
When it comes to content marketing, the goal is to provide value to the user. And a well-designed website will help you do just that.